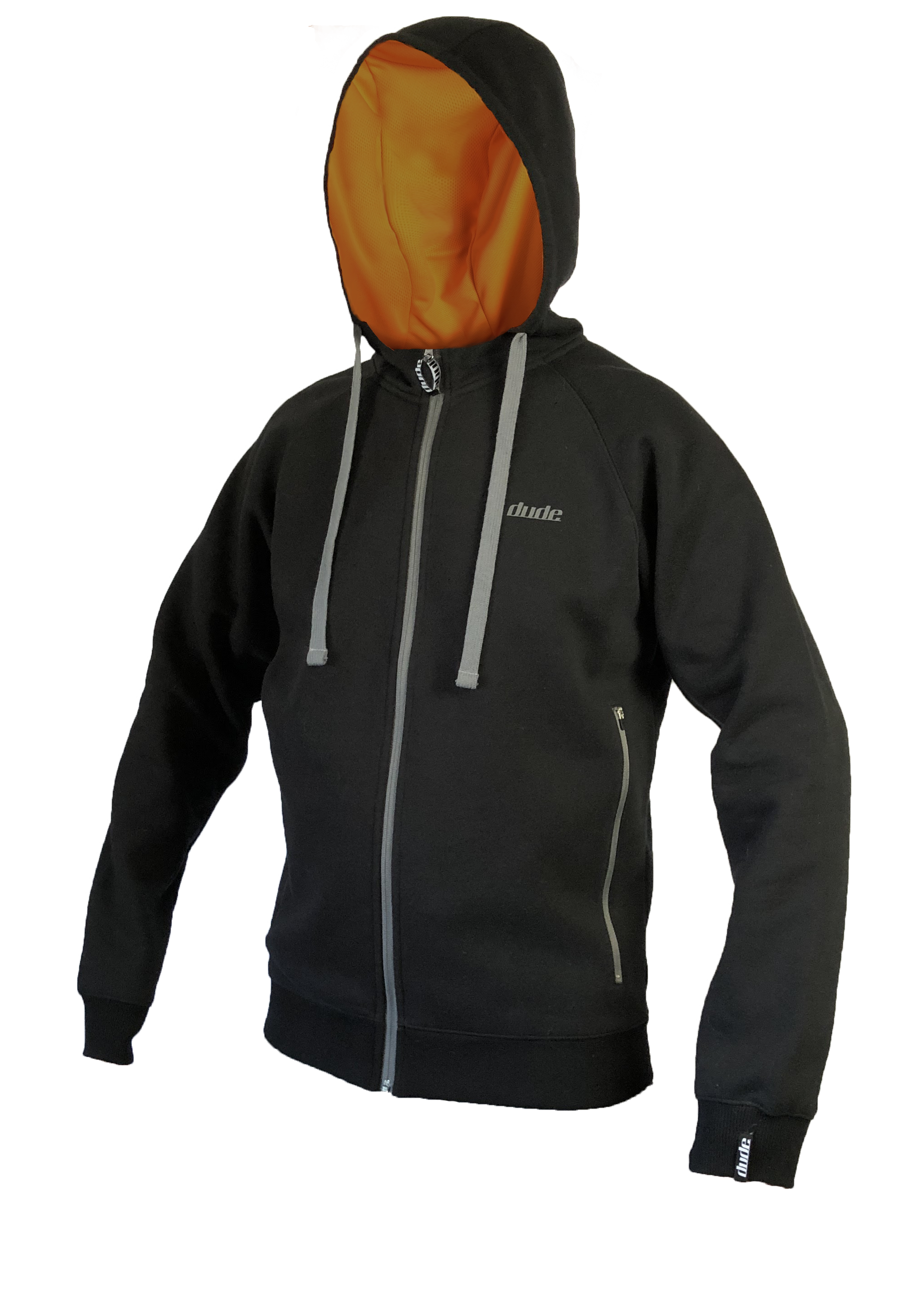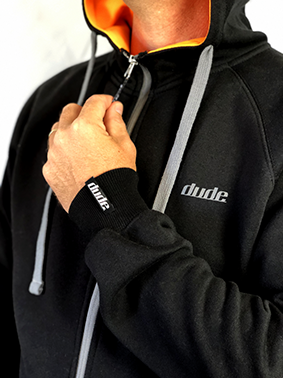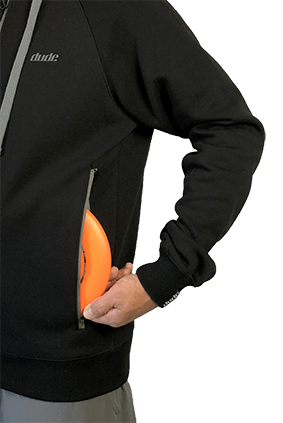 Mens Tech Hoodie
For cooler days, stand out with Dude's easily-recognized-orange-lined fleece hoodie. Or for a tonal look, grab the new grey lining instead. The pockets are designed to hold discs and the fabric has been teched up for a super light feel that won't weigh you down as you play. Hood is fully lined with a dri-fit mesh lining.
80% polyester 20% Polyester
Ultra-warm fleece and comfortable
Contrast zip secure pockets,
26cm Pocket holds up to 4 discs
High neck
Fully lined contrast hood with cool max mesh lining
Fully Lined front chest panels with cool max mesh lining
Woven fold over labels.
Zip pull
PLEASE NOTE SIZES SHOWN ARE USA/AUS Europeans will need to order 1 size down for EUR
1. I want to return my new Dude gear, what should I do?
- If you are not totally delighted with your new Dude gear, send it back for a refund or replacement. To process a return go to Returns Manager.

2. You delivered the wrong size and colour, how do I return this with my own money?
- Wrong size or color, you can return it free of charge (customer pays S&H). Returns must be initiated within 30 days of receipt. Items must be returned in the condition they were received - new, unused with all tags attached. A fair use policy applies; if we find someone returning too many items too often, we reserve the right to deny the free return.

3. Can I return a towel?
- Free returns do not apply to towels, stickers, koozies (stubby holders) and gift vouchers.
It looked like it was going to be nice....
I ordered the tech hoodie and it seemed like great quilty but unfortunately I ordered a medium US and was sent a small US, I reached out to gotta go gotta throw about the issue and was told I could send it back and they would send the correct size. Unfortunately I sent it back and never heard back on the other hoodie. They did send me a refund on the jacket but I was out 8 bucks I paid for shipping it back....I hate to give a unfavorable review because the quality looked good.
Fantastic Quality Gear!!
I ordered a few things for me and the kids, Hoodie, two Ts and two baseball caps. It came quickly and I have to say that I'm blown away by the quality. It's top line clothing, really comfortable and great looking. I'll be back for more.
Awesome, DUDE!
My DUDE clothing shipped quicker than expected and I wasn't disappointed at all! DUDE clothing is extremely well made and comfortable! They are well worth the price! Rock on, DUDE!
Awesome Hoodie
Great quality, nice stitching and zipper. Very comfortable and warm material. Not too heavy for throwing bombs off the tee.