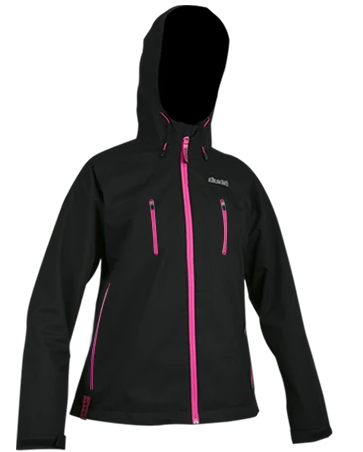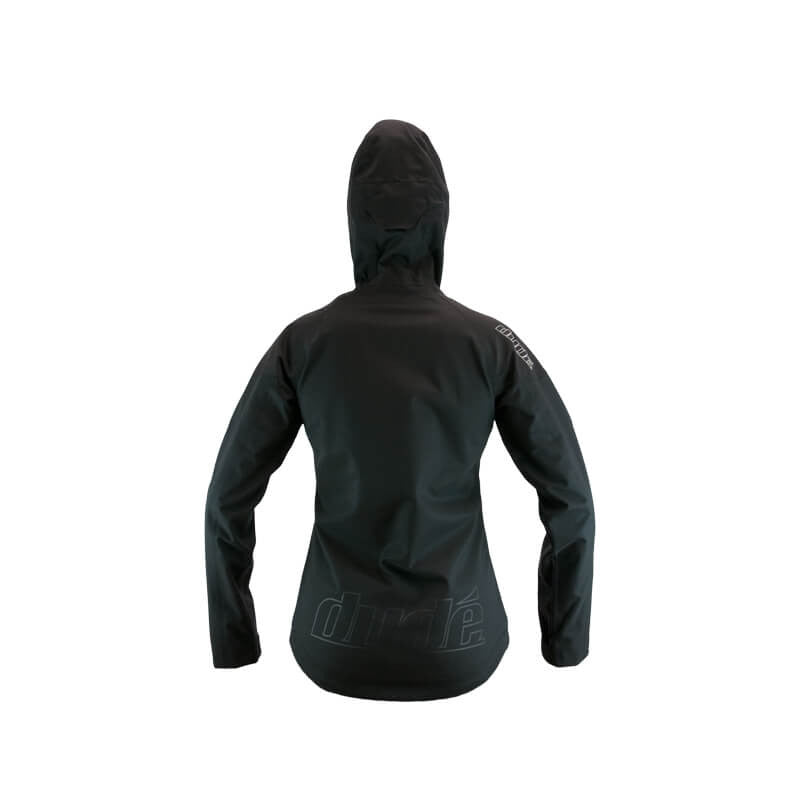 Ladies Tech Caddy Jacket
Pink liner instead of men's orange inside the hood, and pink accents on the zips make this as a Ladies' Tech Caddy Jacket – totally Dudè. Completely waterproof including the zips, which are of course large enough for discs. The whole jacket is lined for contrast and style – perfect for those days when normal people stay inside and you are tossing discs. "From one DUDE to another, just wanted to let you guys know your products are awesome!" July 2016, Pat LaPage
100% polyester stretch twill treated with DWR + hydrophilic breathable lamination
Large waterproof welded side zips to stash discs
Tightly held elasticized mesh pockets fits discs to 26cm
Velcro tab cuffs
Scalloped longer back
Elasticated toggle pull ties on hem
Elasticated hood pull tie with stiffened peak and high neck
Phone pocket
Mini disc pocket
PLEASE NOTE SIZES SHOWN ARE USA/AUS Europeans will need to order 1 size down for EUR
1. I want to return my new Dude gear, what should I do?
- If you are not totally delighted with your new Dude gear, send it back for a refund or replacement. To process a return go to Returns Manager.

2. You delivered the wrong size and colour, how do I return this with my own money?
- Wrong size or color, you can return it free of charge (customer pays S&H). Returns must be initiated within 30 days of receipt. Items must be returned in the condition they were received - new, unused with all tags attached. A fair use policy applies; if we find someone returning too many items too often, we reserve the right to deny the free return.

3. Can I return a towel?
- Free returns do not apply to towels, stickers, koozies (stubby holders) and gift vouchers.
Ladies Tech Caddy Jacket
Love this jacket! Perfect for not only disc golf but wearing to night games of ultimate, or as a general cooler-weather jacket. Highly recommend!
My new favorite jacket
The Tech Caddy jacket is perfect for extra wet/windy rounds. Coming from Maine, the side pockets are very useful. Rain or Snow, Caddying or Playing, I can keep my discs dry right up until the moment they are ready to be thrown. It's even roomy enough where I can fit extra layers underneath if needed. Well done, Dude!
Dude Ladies Tech Caddy Jacket is amazing!
I bought myself this jacket as a birthday gift at the TIm Selinske U.S. Masters tournament. Though it has many custom features for disc golf, Chris sold me on this one: You can fit three discs into each of the two large pockets. Think about it. It's pouring rain, you manage to get your disc dried off under an umbrella, but by the time you step onto the teepad, raindrops get it all wet again. Your grip slips, and your drive sputters to the ground 100 feet away. With this jacket, I can keep a microfiber towel in my pocket, dry the disc, get my grip set, and pull it out at the last second when I'm ready to throw. Genius.
Dude Ladies Tech Jacket
Absolutely love this jacket! Was comfortable to throw in and was a life saver at a recent tournament I participated in where the highs were on in the 30's.